Program Titles
SEAL Team Leadership for Civilians
Don Mann's experience in the SEAL Teams, CIA
Triathlon
Don D. Mann Navy SEAL, CIA, action-packed life as a former member of Navy SEAL Team SIX, an internationally renowned endurance athlete. He has changed countless lives by sharing his unique "Reaching Beyond Boundaries" philosophy. Don's message includes equal doses of inspiration and strategy. "Anybody with the proper mindset can achieve anything imaginable," as he inspires business leaders and professionals.
Setting goals is an important way for organizations to identify what it is they want to accomplish, although sometimes reaching those goals can be a daunting task. By breaking macro goals down into micro goals, they become much more manageable and easier to handle."
Mann's unique and heart-felt program includes philosophy of setting and achieving micro and macro-goals, creating an efficient and effective, mindset, which a SEAL call a "combat mindset". A story filled with humor, successes and failures in which he has experienced throughout his own life in the SEAL Teams, CIA and world of ultra-distance endurance competitions.
Don Mann's unique story and the lessons he shares comes from his colorful and action-packed life as a Navy SEAL, as a contractor for the CIA, of his experiences competing in some of the world's most grueling competitions, and his experience in the business world.
Mann's impressive military biography includes being a decorated combat veteran; Corpsman; SEAL Special Operations Technician; jungle survival, desert survival, and arctic survival instructor; small arms weapons instructor, foreign weapons instructor, armed and unarmed defense tactics, advanced hand-to-hand combat instructor; and Survival, Evade, Resistance and Escape Instructor; in addition to other credentials.
When Osama bin Laden was assassinated, the entire world was fascinated by the men who had completed the seemingly impossible mission that had dogged the U.S. government for over a decade.
SEAL Team SIX became synonymous with heroism, duty, and justice. Only a handful of the elite men who make up the SEALs, the U.S. Navy's best and bravest, survive the legendary and grueling selection process that leads to SEAL Team SIX, a group so classified it technically does not even exist.
Mann knows what it takes to be a brother of these ultra-selective fraternities. As a member of CIA operative, he worked in countless covert operations, operating from land, sea, and air, and facing shootings, decapitations, and stabbings.
He was captured by the enemy and lived to tell the tale, and he participated in highly classified missions all over the globe, including Somalia, Panama, El Salvador, Colombia, Afghanistan, and Iraq.
As a training coordinator for several SEAL training programs, and as a former Training Officer of SEAL Team SIX, he was directly responsible for shaping the bodies and minds of a SEAL.
At the podium he shares a high-octane narrative of physical and mental toughness, giving unprecedented insight to the inner workings of the training and secret missions of the world's most respected and feared combat unit.
•Navy SEAL
•SEAL Team One,
•SEAL Team Six,
•SBU-26, Republic of Panama
•SEAL Team Two,
•Navy Special Warfare Development Group,
•Advisor and Primary Trainer for the USN Sea Cadet – SEAL Corps, SEAL Adventure Challenge and SEAL Training Academy, Icelandic SEAL Adventure Challenge
•Decorated Combat Veteran, Navy SEAL
Corpsman, EMT, paramedic; SEAL Special Operations Technician; Special Forces Medical Laboratory graduate; static line, high altitude free-fall and advance free-fall parachutist; open circuit, closed circuit oxygen and air scuba diver, diving supervisor; jungle survival, desert survival and arctic survival instructor; Military Operations in Urban Terrain instructor; small boat operator for craft up to 65 feet; technical rock climbing, mountaineering; small arms weapons instructor, foreign weapons instructor, armed and unarmed defense tactics; photo intelligence; Survival, Evade, Resistance and Escape Instructor.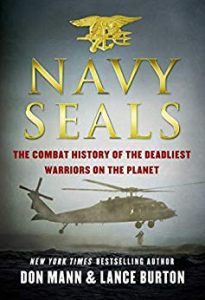 Book Don D. Mann, Navy SEAL, CIA for your Event!