Survivor: 9/11 Terrorist attacks on World Trade Center: Captain Al Fuentes, FDNY, found after two hours in a coma, his injuries suffered were catastrophic.
Program Titles
Captain Al Fuentes, PTSD, Survival Guilt a 9/11 First Responder Account
Crisis management: Operated at numerous disasters: nationally, and internationally .
In just 102 minutes our Nation was changed forever. In 102 minutes, my life was also forever changed.
Captain Al Fuentes is retired from the City of New York Fire Department. On September 11th, 2001, Acting Battalion Chief led a contingent of fireboats on a mission to carry away survivors from the burning World Trade Center Towers.
While coordinating rescuers and pulling wounded firefighters from the wreckage to speed them to area hospitals, Captain Fuentes himself was caught in the collapsing rubble as he rushed to search for survivors of the North Tower WTC.  9/11 hero Captain Al Fuentes of the FDNY Marine Division, now retired, was buried in the rubble of the World Trade Center for nearly two before being rescued by his FDNY brothers.
He responded and operated in the attacks on the NYC World Trade Center on 9-11-01, where he was ultimately buried and trapped in the issuing collapse of the North Tower. Eventually, he was recovered, extricated, and transported. Unfortunately, he suffered near-fatal injuries and remained in a coma for weeks. In addition, he sustained crushing injuries to his skull, lungs, and ribs and lay pinned beneath a steel girder for over two hours.
Captain Fuente's career spans many years of serving NYC, specializing in Emergency Management, Disaster Preparedness, Disaster Response and Recovery, Search and Rescue (member of the NYTF 1 National USAR Team), and Emergency Preparedness.
He has been a recipient of 11 awards as well as a 9/11 medal for actions on the 9/11 NYC terrorist attacks.
During his career, Captain Al Fuentes has had an outstanding record in his profession in New York City, nationally and internationally.
He has also performed work for FEMA for many years.
During his career, Captain Fuentes operated at the Oklahoma City Bombing, the Humberto Vidal Collapse in Puerto Rico, and many other emergencies and disasters, domestically and internationally.
He has been awarded a United States Patent for a "Structure Monitoring device."
He has written for various emergency magazines and his book, "American By Choice."
He was an instructor for the New York City Fire Department and the United States Fire Academy.
He consulted for Oak Ridge National Laboratory (Dept. of Energy) and Homeland Security.
He holds numerous certificates in various disciplines, such as Confined Space.
Captain Al Fuentes holds a bachelor's degree in Psychology and a Master's in HLS Leadership from the University of Connecticut.
Captain Al Fuentes was born in Guayaquil, Ecuador, a citizen of the United States, raised in NYC, and is bi-lingual: in English and Spanish.
Books by Captain Al Fuentes, retired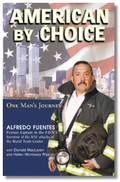 Book Captain Al Fuentes, retired for your Event!