Program Titles
Social Intelligence
Emotional Intelligence
Truth About Effective Leaders
Increasing Profits By Avoiding Cost Overruns
Avoiding Threats and Seizing Opportunities
Engaging Young Employees
Gleb Tsipursky, Ph.D., "Disaster Avoidance Expert" empower leaders to avoid business disasters and make the most profitable decisions by using cutting-edge, research-based strategies.
Gleb Tsipursky protects leaders from dangerous judgment errors known as cognitive biases, which devastate bottom lines and bring down high-flying careers. His expertise and passion is developing the most effective and profitable decision-making strategies, based on pragmatic business experience and cutting-edge behavioral economics and cognitive neuroscience, to empower leaders to avoid business disasters and maximize their bottom lines.
Tsipursky's expertise comes from years of working with mid-size and large businesses as the Disaster Avoidance Expert, Aflac, Honda, Wells Fargo, the World Wildlife Fund, and Xerox….
His expertise also stems from his research background as a behavioral economist and cognitive neuroscientist with years in academia, including years as a professor.
He published dozens of peer-reviewed articles in academic journals such as Behavior and Social Issues and Journal of Social and Political Psychology.
Tsipursky earned his Ph.D., in the History of Behavioral Science.
Tsipursky's cutting-edge thought leadership was featured in over 400 articles he published and over 350 interviews he gave to popular venues that include Fast Company, CBS News, Time, Scientific American, Psychology Today, The Conversation, Business Insider, Government Executive, The Chronicle of Philanthropy, Inc.
Magazine…
Do you want to avoid:
Losing good clients?
Making a bad hire?
Projects flopping?
Having mergers go poorly?
Unengaged employees?
Destructive team conflict?
 If you are committed to the hard work needed to achieve game-changing outcomes in:
Ensuring that your company maximizes its long-term profits and true potential
Cultivating a flourishing internal culture that underpins lasting success
Aligning your existing practices with proven, evidence-based business strategies
Motivating your employees using cutting-edge research in emotional and social intelligence
Boosting productivity and engagement by applying behavioral science findings to your needs
Increasing your market share by avoiding the business disasters that trip up your competition
Develop a game plan to take yourself and your organization from good to great
Do you want your audience members to:
feel delighted about getting real and immediately-applicable solutions to their pressing problems?
express surprise by how well the speaker understands them and their needs?
be wowed by a highly credible presentation based on internationally-recognized thought leadership?
have an engaging, entertaining, and enlightening experience facilitated by an adult learning expert?
be impressed by top-notch delivery, virtual or in-person, by a highly experienced Ph.D.?
 His engaging, entertaining, enlightening, research-driven, and customized-for-you virtual and in-person talks have helped thousands of leaders and organizations avoid business disasters, manage risks, make wise decisions, and formulate top-notch strategic plans.
Gleb is an internationally-recognized thought leader on a mission to protect leaders from dangerous judgment errors known as cognitive biases by developing the most effective decision-making strategies.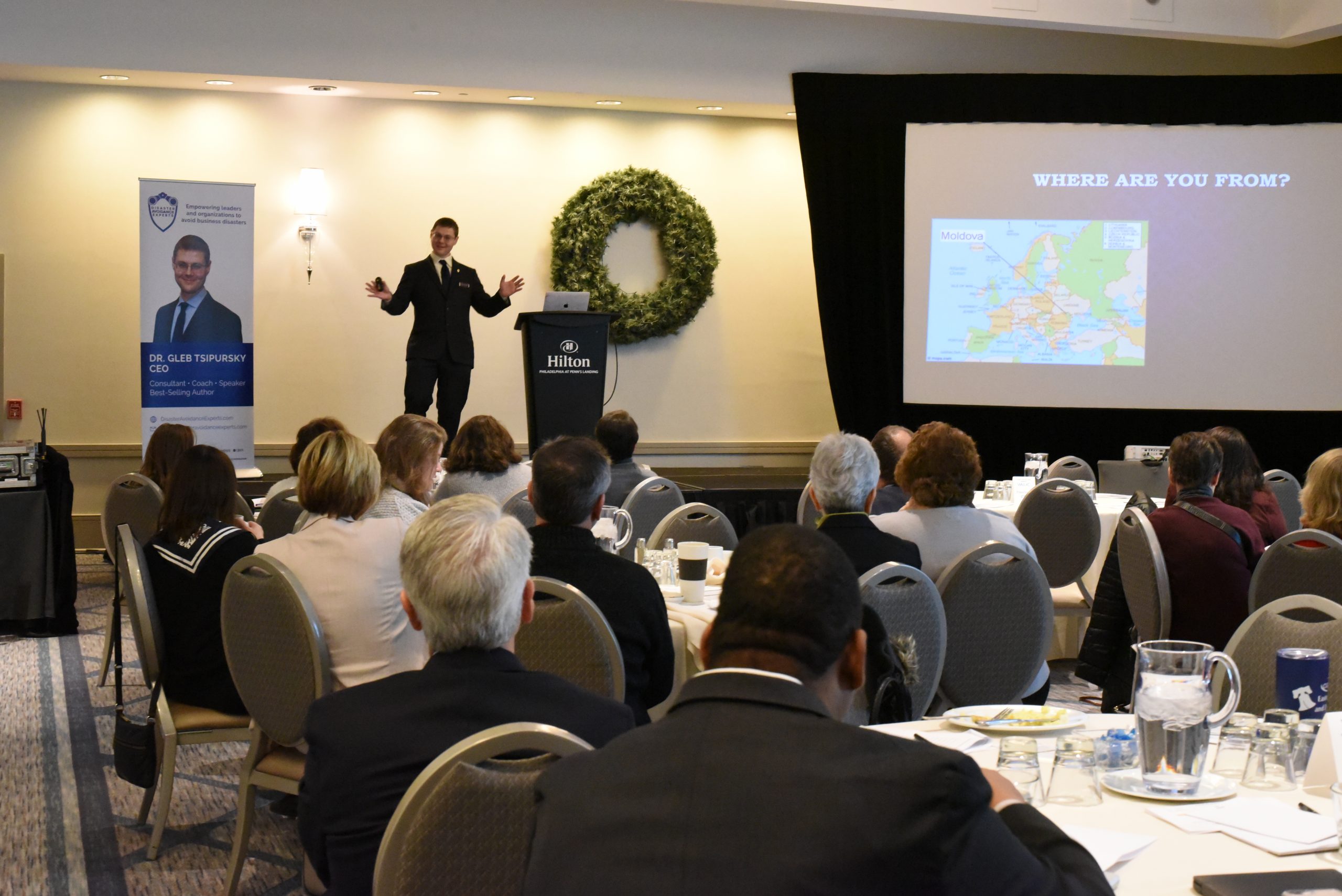 Gleb knows exactly what you need from him as a speaker to make your job easy. To quote a meeting planner, "Gleb is a snap to work with, has very interesting scientific information, and is a delightful presenter. I highly recommend him!"
Books by Gleb Tsipursky, Ph.D.
Book Gleb Tsipursky, Ph.D. for your Event!