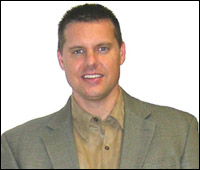 Son of John Davidson, singing entertainer and dimpled TV game show host . Davidson, Jr. a showbiz hopeful turned business pro.
Program Titles
High Level Performance
Performance Enhancement
Workaholism leads to diminishing returns
Continuity Trap
What if you could grow your business, and work less?
Without the ability to execute effectively –and it's frustrating– we find ourselves living without the rewards we'd hoped to achieve by now.
John Davidson teaches entrepreneurs how to work less, play more and earn more. "Most business owners see free time as a luxury, not a necessity."
John wants to know are you drowning in a sea of details, bogged down in paperwork, constantly putting out fires and not having any fun?
John's program is about getting back the freedom, confidence and earning power lost by all the trappings of financial success.
More and more, business owners are turning to private business education to gain the edge and direction they need to build a business and have a life!
Davidson has studied an amazing natural phenomenon he calls "the Continuity Trap", which happens to fast growing business owners who reach a mid-life personal crisis when they find themselves making great money but working longer hours and deteriorating personal relationships to maintain their overworked state.
This plateau is a restraint signaling that personal values are in conflict with high ambition.
He is the son of John Davidson, singing entertainer and dimpled TV game show host of the 70's and 80's.
John having grown up in the entertainment industry, he saw first hand the silly decisions famous people with money and how they trashed their personal lives.
John Davidson, Jr. decided that there must be a way to help people make smarter decisions.
Book John Davidson, Jr. for your Event!