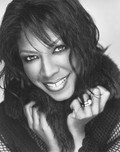 Natalie Cole a legacy of standards made famous during her father's Nat King Cole era.
Program Titles
Cole has interpreted material from virtually every musical era, never bending to trends or the latest production gimmicks
One of our most treasured vocal stylists
Natalie is recognized for delivering a lyric with uncompromising intensity
Natalie Cole has crafted a lively and provocative array of pop & R&B tunes
Natalie Cole is one of our most treasured vocal stylists, as she has crafted a lively and provocative array of pop and R&B tunes on her latest album, Snowfall On The Sahara.
It's the first time in almost a decade the celebrated singer has mined such gilded territory. "I've been doing standards for more than seven years now," says Natalie.
"I like to keep myself challenged. I thought it was time to do something different."
From the poignantly spare title song "Snowfall On The Sahara," ("except for a few overdubs, that version is practically the demo," she says enthusiastically) to the full horn/piano tinged boogie of the Roberta Flack gem "Reverend Lee," to the haunting interpretation of Leon Russell's classic, "A Song For You," Natalie extends her reach like never before.
Guided by the gentle expertise of longtime collaborators David Foster and Phil Ramone, each song is lovingly brought to life, tethered by the soulful effortlessness of Natalie's legendary voice.
Ten of the twelve tracks are joined by some of New York City's best session musicians. A necessary prerequisite – says Natalie – in order to capture the palpable essence of the material. "The New York musicians give the songs a texture I couldn't have achieved in L.A.," she says. "I felt the same way when I first started working in Chicago in the seventies. Chicago musicians give a certain vibe to what they do. I wanted some of that New York feel on this one."
Natalie also says the album reaffirms her affection for music that embraces a diversity of styles. "People seem to always think of me as a jazz performer. But I've always said I sing jazz but I'm not a jazz singer. On this album I return to the kind of pop and R&B I did when I was starting out." Natalie has delivered many memorable albums in her journey, (this is her 21st LP), but undoubtedly, she is best known for the multi-platinum, multi-Grammy winning Unforgettable, With Love, which honored a legacy of standards made famous during her father's (Nat King Cole) era.
"That album made it a little too easy for people to categorize me. I was attempting to make a transition to jazz there, not stay in it for the rest of my life. It enriched my musical experience. But I also like to experiment. On the new album I'm stepping out."
You can feel the hypnotic grooves on tracks like "Corrina," a song Natalie first saw performed by the legendary R&B pioneer, Taj Mahal. The ageless musician has quietly influenced a myriad of artists, including Eric Clapton, The Rolling Stones, and Miles Davis. "I saw him do "Corrina" during my last year in college and I have never forgotten it," she says. "I don't think we could have captured what's so magical about it without the New York guys."
The two songs that were recorded in L.A., however, also have significant origins for Natalie. Both were helmed by David Foster. "Eyes Wide Open," is an old Patti Page song. I heard it when I was growing up. It's a little country, a little K.D. Lang," says Natalie. "When David first cut the 2-track, I didn't think I was going to do it. After we put my vocal on it, it worked. I just fell in love with it."
The other Foster-arranged track, "Snowfall On The Sahara," had a much more enigmatic beginning. "The song seems ancient to me now because we started it about six years ago. The original writer, Peter Wolf, and his wife had written these two lines: "When the snow falls on the Sahara and the Mojave Red turns to blue…" That's all they had, but I thought it was so evocative. I sat down right there in the studio and finished writing it. We cut a demo, and left it alone. What you hear on the album is that version, with David's special touch, of course, and a few more added guitars and vocals. I've never had a song on any album before that seemed so finished in such a simple state."
The benchmark of Natalie's work has always been to ultimately serve each song. For nearly three decades, she has interpreted material from virtually every musical era, never bending to trends or the latest production gimmicks.
Recognized for delivering a lyric with uncompromising intensity, Natalie grew up "loving the classic performances," no mater the genre. Her early appreciation for Ella Fitzgerald, Sara Vaughn and all of her father's contemporaries soon translated into a curiosity about artists such as The Beatles, and The Rolling Stones. That curiosity continues today. "I think Lauryn Hill is carrying on that tradition of excellence," she says, when asked to remark on any new standard-bearers. "She always makes a point in her concerts and interviews to talk about what's come before and how important it is to our entire musical legacy."
Natalie's own legacy has always been built on a fierce dedication to her craft. Her open mindedness about song selection has led to some of contemporary pop's most elegant interpretations. In 1975 Natalie's stellar career took off. Her debut effort, Inseparable was an instant smash garnering her first gold album, winning two Grammy Awards including "Best New Artist" and spawning the Top 10 hit "This Will Be."
Unpredictable and Thankful both hit platinum and I Love You So reached gold. These albums included the platinum singles "I've Got Love on My Mind" and "Our Love." She continued her amazing climb in the early's winning yet another Grammy and three more nominations.
She closed out the decade with another Grammy nomination for her hit album Everlasting, which included the Top 15 smash hit "Jump Start," as well as an NAACP Image Award and a Soul Train Award and the album Good To Be Back which contained the Top 10 hits "Miss You Like Crazy" and "Wild Women Do."
But it was signing with Elektra that would unveil a Natalie Cole project that would change the musical lexicon forever. The acclaimed Unforgettable, With Love sold an amazing 11 million copies, pushing Natalie's total album sales well over the 30 million mark.
A testament to Natalie's brilliant ability to convey a lyric and a tribute to her father's genius, the album garnered seven Grammy awards, becoming one of the most honored albums of the decade.
Natalie followed up that milestone with the much honored and gold album Take A Look, which snagged her another Grammy for Best Vocal Performance. She also teamed up with another one of her idols, the legendary Frank Sinatra, recording "They Can't Take That Away From Me," for Sinatra's Duets album.
Elektra released Holly And Ivy, a cleverly jazz-imbued Christmas album that has become a classic. Natalie enriched the tradition she established with Unforgettable, With Love, by releasing the 18 song opus, Stardust. Produced by familiar compatriots David Foster, George Duke, and Phil Ramone, the album included rare gems originally recorded by Nat King Cole, Sara Vaughn, Dinah Washington and others. Included on the acclaimed work was the lesser known nugget, "To Whom It May Concern," penned by Nat King Cole and Natalie's aunt, Charlotte Hawkins.
During the mid-90's, Natalie's dream of becoming an actress was fulfilled, debuting with a critically-lauded performance in the season finale of NBC's much heralded series "I'll Fly Away." In 1994 she starred in the title role in the USA Network Premiere Movie, "Lily In Winter." She's also appeared in the CBS hit series "Touched By An Angel" and in the TNT broadcast of a special Lincoln Center musical production of "The Wizard of Oz."
In 1998 Natalie appeared with Laurence Fishburne in the HBO made-for-TV-movie, "Always Outnumbered" based on a short story of the same title by Walter Mosley and in 1999 she starred in the Showtime telefilm "Freak City."
Natalie's return to the pop and R&B arena offered the singer the perfect project to close out the '90's. "It's let me make choices I normally wouldn't have made," she says. Like including Bob Dylan's gospel influenced anthem, "Gotta Serve Somebody." "I love Bob Dylan but I wasn't familiar with that song," she says. "My sister suggested I do it. I heard it and was mesmerized by it." Natalie renders a stirring version, staying faithful to Dylan's chilling warning, but also infusing the mysterious track with an unmistakable thread of funk, including a new closing verse that Dylan wrote especially for her.
Natalie's ability to unleash a full display of vocal pyrotechnics is especially evident on the album's epic closer "Stay With Me," a song recommended to her by none other than Elton John. "He was going to use it for his most recent project, but didn't, and thought it would fit me perfectly." The heart wrenching song soars on the power of Natalie's emotional vocal. Her interpretation, wistful, but at the same time incredibly bold hearted, has turned this fortunate find into pure, classic Natalie.
But, perhaps, it's Natalie's own proclamation, uttered right before the aforementioned "Corrina" – that best describes her mood on Snowfall On The Sahara: "Just when you think you know me…think again."
Book Natalie Cole for your Event!