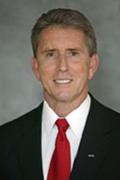 Leaders are responsible for strategy, must also retain a working-level knowledge of the organization's tactical environment.
Program Titles
Peak Performance: Avoid superficial measures when evaluating employees' potential
The Secrets of the Navy SEALs' Success
Leadership prism pointing down!: Ignore at your own risk!
Maximize opportunities to work directly with your employees.
Learn to deal with unpredictability: It is predictable.
Basic leadership arithmetic: authority + responsibility = accountability
Learn from failure: Sometimes the brightest light comes from a burning Bridge
Manage energy, not time: Find a way! There is always a way!
Making decisions on your own produces outcomes, not necessarily solutions!
Rear Admiral, Ray C. Smith, US Navy (Ret.) Navy SEAL Commander, is regarded as one of the Navy's most inspirational leaders.
A Navy SEAL, Admiral Smith achieved extraordinary success through focused, participatory leadership.
Widely regarded as one of the Navy's most inspirational leaders,
Rear Admiral Ray Smith has spoken extensively on his leadership experiences to a wide range of audiences including corporate, political, military, and civic leaders.
During his four-year tenure as Commander of the 2300-men SEAL force, he raised personnel retention to a level three times the Navy average.
As a Navy Captain, Admiral Smith led the Navy SEALs in Operation Desert Storm, conducting over 200 operations of strategic significance while incurring no casualties.
Admiral Smith directed Navy SEAL training, generally considered to be the most challenging military training in the world. While in this position, Admiral Smith achieved the highest graduation rate in the 50-year history of the course (55%).
Admiral Smith was also the first Navy Flag officer to hold the position of Director of Assessment with the Office of the Chief of Naval Operations. In this position, Admiral Smith led 100 system analysts in providing recommendations directly to the Chief of Naval Operations to enable an improved execution of an $85 billion annual budget.
Admiral Smith has a Bachelor of Science from the U.S. Naval Academy and a Master of Science in Physical Oceanography from the U.S. Naval Postgraduate School.
Admiral Smith's Naval career began with him joining the Navy as an enlisted man, however, within a year he had been awarded an appointment to the U. S. Naval Academy-Annapolis.
After serving two years on a destroyer, he volunteered to enter the Navy's elite special operations unit, the SEALS.
Upon completing this rigorous course, which had a then-failure rate of 80% due to extreme physical and psychological requirements, he was deployed to Vietnam where he led an Underwater Demolition Platoon in combat, for which he received the Bronze Star and the Navy Commendation Medal, both with the combat V (Valor).
Selected to attend the Navy Post Graduate School, Admiral Smith graduated with a M.S. degree in Physical Oceanography, then served as operations Officer and Executive Officer of SEAL Team 12, followed by an assignment in Washington as SEAL weapons and diving systems Acquisition Manager.
As Director of SEAL Training, Admiral Smith led a staff of instructors which obtained a graduation rate of 55%, the highest in SEAL history.
As a staff officer at DOD, was in planning for Assistant Secretary and Secretary of Defense, and involved numerous international trips.
Following Command and Chief of Staff positions, he was appointed Commander of 900 SEALS doing operations in both the middle east, and the Pacific region.
In Operations Desert Shield and Desert Storm, he led 350 SEALS / support personnel which conducted 270 successful special operations combat missions, while incurring no fatalities, for which they were awarded the Navy Unit Commendation Medal.
As a strategic advisor to the Chief of Naval Operations, he was promoted to Admiral, and assigned as Commander of all 5,000 SEALS and staff, for four years, the longest tenure at that position in Navy history.
Admiral Smith became the Director of Resources of U.S. Special Operations Command, then served as Deputy Command in Chief of the Unified Special Ops. Command, leading 47,000 special Ops. forces from all service branches.
His last active duty post was to lead 100 systems analysts in a hard-analysis of the Navy's $100 billion budget, which resulted in recommending potential budget savings of over $36 billion to the CNO.
Defense Distinguished Service Medal (Navy's third highest award), Defense Superior Service Medal
Legion of Merit (5 awards)
Bronze Star wtih Combat V
Meritorious Service Medal
Navy Commendation Medal with Combat V (4 awards)
Navy & Marine Corps Commendation Medal wtih Combat V (4 awards), Combat Action Ribbon (2 awards),
3 foreign country awards,
Numerous unit, service and campaign awards
Admiral Smith has been active nationally as a special advisor to a variety of public corporations & organizations.
Board of Directors of two public corporations:
Board of Advisors to:
–American Defense Systems Inc
–Surefire (finest flashlights in the world)
–Navy SEAL Museum
— Leadership instructor for LAPD (West Point Leadership curriculum)
–Adjunct researcher at Rand Corp.
–Advisor to U.S. Marine Corps Law – Enforcement
–Advisor to the National High School Coaches' Association
–Lecturer: SEAL officers
–Human Performance Institute
–Industry / Universities / Law Enforcement
Book Rear Admiral, Raymond C. Smith, US Navy (Ret.) Navy SEAL Commander for your Event!