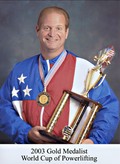 Gold Medals Don't Make Champions: The Best Way to Predict Your Future . . . CREATE IT!
Program Titles
Hands on learning about communication, conflict resolution, team building, and the understanding of how personality and attitude effects their daily lives.
Understand the importance of respect, using the abilities that you have to be better than you imagined, making choices and the rewards as well as the consequences of those choices that you make.
Drink- from the fountain of happiness, Steal- a little time to do an act of kindness, Swear-to live your life to the fullest, and Lie-down each night and thank God for our freedoms and the opportunity to follow our dreams.
Rick L. Metzger has instant rapport with the audience comes easily from the social and communication skills developed as a professional athlete and high school athletic coach.
Rick's personal achievements as a seven time National NASA Bench Press Champion, an American record Holder in drug-free power lifting, and a three time gold medalist at the World Cup of Power Lifting (making Rick unquestionably one of America's most powerful speakers) has also created a well projected self-motivation.
Book Rick L. Metzger for your Event!