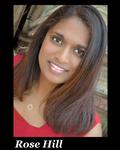 Rose Hill: Bilingual – English – French – Creole / Host / Presenter / Interviewer
Program Titles
Stage actress
Editor / Journalist / Reporter
Producer
Comedian
Creole: Mauritian
Rose Hill explores French art, Culture and Language for
non-francophone and media francophone.
Rose is of the East Indian origin, tri-lingual: fluent in English, French and Creole (Mauritian).
She can motivate and give inspiration to talented individuals in order so you may pursue a careers in the Art and in the Entertainment Industry.
Rose invites you, who are not necessarily French native born in France but who speak French to participate in having a French friendly conversation.
The adjective "francophone" in media francophone encompasses everyone who may be or is fluent in French, not necessarily only French people born in France.
The adjective francophone means "French-speaking", typically as primary language, whether referring to individuals, groups, or places.
She will enlighten you to bring your education and motivation up a notch in order for you to be exposed to French art, culture and language.
What makes this francophone program international is that expatriates from Europe, Africa and Latin America living and working among you may participate in this program.
The interest of your audience would be that France has long history in theater and cinema: Festival de Cannes.
Another example in Las Vegas, Le Cirque du Soleil, a French company, has invaded the Las Vegas strip with various shows hiring French clowns and acrobats from different countries.
The opportunity to hear the French language and for you to become part of an international program where you participate in a familiar framework with your native language, to extend friendships, speaking French and exploring new arenas.
Rose Hill in film:
American Citizenship Sonya/Lead (French maid slave)
Only Famous When Dead (short) Detective
Undercover Covergirls Mauritius/Lead (Coffee shop owner)
Liver and Onions Mrs Trina/Supporting (Teacher)
Reparation Interviewer #2/Supporting
Know Regret Elena/Supporting (Detective's wife)
Moral Discord Strawberry/Supporting (Prostitute)
Beguilement Lynn Reinhart/Supporting (Victim)
Here comes the boom Patron
Burt Wonderstone Tourist
Event Horizon Zombie
Ashes Party Goer
Rose Hill on Television:
National TV show: Supreme Justice Court
Rose Hill commercials:
Monte Carlo Patron
Shania Twain Tourist
Rose Hill in theater, on the stage:
Agnes of God Dr. Martha Livingston/Principal (Psychiatrist)
Dreamgirl Georgina/Principal (Bookstore owner)
Look Homeward Angel Eliza Gant/Lead (Mother)
La nouvelle aventure du petit chaperon Rouge Rouge/Star
(French speaking role)
Le bossu et l'eau de vie Esmeralda/Co-Star (French)
Clue Yvette (French Maid)
Santa Claus v/s The Martians Multiple Roles/Lead
Bad Head Felicia Burns/Lead
The Final Four Cheerleader/Lead
One Act Assisting Director
Biloxie Blues House Manager
Hamlet House Management Staff
Rose Hill comedy:
Flappers Comedy Night Stand Up Comedy
Hollywood Comedy Night Stand Up Comedy
Rose Hill hosting:
The Supporting Cast Ellen / Principal (Host)
Le bossu et l'eau de vie Host Rose Hill
L'aventure du petit chaperon Rouge Host Rose Hill
French Potpourri Concert Host Presenter
Music:
Les Miserables (musical theater) Triple Cast: Poor woman,
Factory worker, Old woman #2 at the dock
Rose Hill in print:
Allure Bridal Hair Model Allure
Optionz Boutique Promo Model
Performer Skills:
A founder of the first French theater group and stage French play,
Host,
Theologian,
Editor / Journalist /
Reporter,
Comedian
Accents: British, French
Spoken Languages: French, English, Creole
Book Rose Hill for your Event!