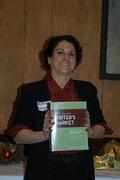 Sharon Goldinger, is an expert in manuscript preparation specializing in nonfiction publications
Program Titles
Taking Advantage of Media & Sales Opportunities
Sharon Goldinger, is an expert in manuscript preparation specializing in nonfiction publications.
A professional writer and editor, Sharon assists both writers and nonwriters in meeting their publishing goals by providing complete consulting and hands-on services–from initial evaluation and editing to book production management as well as creating back cover copy and press kit materials.
Her skillful work with writers and publishers (including Berrett-Koehler, Leviathan Press, and Seven Locks Press) has led to Benjamin Franklin award finalists or winners for four consecutive years.
The former editor of a monthly newspaper and an lifestyle magazine, Sharon has created individualized public relations, advertising, and media placement campaigns for a variety of clients. These campaigns combine an appropriate blend of public relations, publicity, promotion, marketing, and advertising strategically devised for each client.
She actively supports the publishing community as a member of the American Booksellers Association, Publishers Marketing Association, Small Publishers Association of North America, and the Women's National Book Association.
Books by Sharon Goldinger
Book Sharon Goldinger for your Event!